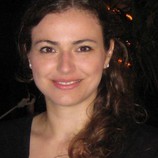 Sofia Angeletou
is a Senior Data Architect for the BBC's Linked Data Platform, which builds the BBC's services for creating and publishing Linked Data. Prior to this, she was a Research Associate at the Open University investigating the user behaviour in online communities. Sofia obtained her PhD from the Knowledge Media Institute of the Open University and her doctoral research focused on enriching user generated content with publicly available ontologies.
Opening-Keynote September 5, 2014
Linked Data at the BBC: Connecting Content around the Things that matter to our Audiences

More than four years ago the first BBC website was released using a semantic publishing stack. Since then, major sporting events such as the World Cup 2010, the London Olympics 2012 and the Winter Olympics 2014 were covered using Semantic Web Technologies. The success of these efforts demonstrated how linked data can improve and simplify production workflows and provide interesting automated aggregations for our audiences. The vision of semantic publishing in the BBC has shifted from supporting high profile events to connecting the BBC's content around things that matter to the audience. To this end, we have increased the application of linked data to domains other than sport such as news, education and music with the intention that the content we produce can be reused and discovered through a multitude of channels. In this talk I will outline the technological and cultural factors that have influenced the BBC's adoption of linked data. I will describe some of the principles on which we continue to expand linked data within the organisation, the early assumptions we made, their effects on the development of the platform and they way we are addressing them now. I will also provide some insights into end-to-end workflows of content annotation and publishing, iterative and corrective approaches to data quality and the role of well-trained content editors.

Links: