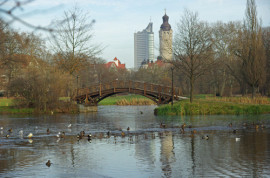 Leipzig is one of the two largest cities in the federal state of Saxony, Germany, situated about 200 km south of Berlin. Leipzig has always been a trade city, situated during the time of the Holy Roman Empire at the intersection of the Via Regia and Via Imperii, two important trade routes. In the second half of the 19th century, Leipzig became the forerunner of industrialization in Germany. The industrial architecture of the late 19th century has become one of the city's attractions.
At one time, Leipzig was one of the major European centers of learning and culture in fields such as music and publishing. Over the course of the centuries, Leipzig's citizens have supported the arts, collected paintings, endowed museums and founded the world-famous Gewandhaus Orchestra. Leipzig is known all over the world as a city of music on account of the works of Felix Mendelssohn Bartholdy, Robert Schumann and Johann Sebastian Bach. A concert by St. Thomas Choir in the actual place where Bach worked – St. Thomas's Church – is one of the cultural and emotional highlights of a visit to Leipzig.
Leipzig played a significant role in instigating the fall of communism in Eastern Europe, through events which took place in and around St. Nicholas Church. Since the reunification of Germany, Leipzig has undergone significant change with the restoration of some historical buildings, the demolition of others, and the development of a modern transport infrastructure. Leipzig has many institutions and opportunities for culture and recreation including a football stadium which has hosted some international matches, an opera house and one of the most modern zoos in Europe.
Leipzig is constantly reinventing itself, yet at the same time is a city that stands for continuity. The soul of this city has always been characterized by energy, a creative will and the pride of its citizens. Hospitality and an openess to new ideas are centuries-old traditions.